---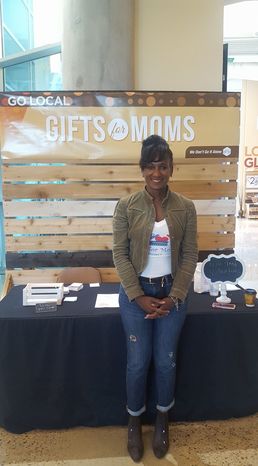 Generous Donation From Chase Oaks Church
We want to thank Chase Oaks Church for the generous donation we received that will allow us to help more families and get badly needed office space. Chase Oaks Church has been a major support of Gifts For Moms for the past five years, hosting our Christmas party and providing donated items. This week, they continued that support by make Gifts For Moms one of the three partners to receive a large monetary donation from member contributions.
This donation will help us to implement more program, offer more support to families and get office space that will allow us to host our monthly meetings and classes in our own place!
Stay tune for our opening house coming the first week in June.
Thanks Chase Oaks Church for doing the work of God! We are humbled by your generosity and deeply appreciative!
Check out the video
---
Gifts for Moms Support Single Parent Families
Our Mission

Our mission is to help single mothers out of the tight spots with no strings attached. Sometimes mothers just need someone to talk to or help with finding resources for her family.

The numbers tell the story of single mothers in the United States. According to Families and Living Arrangements: 2006, there were 12.9 million one-parent families in 2006 — 10.4 million single-mother families (81%) and 2.5 million single-father families (19%). About 84% of single parents are mothers. Women earn on average 77 cents to the white male dollar, African American women earn just 66 cents to the male dollar, and Latino women earn just 54 cents. Women with children earn 10 to15 percent less than women without children. 37% of single mothers and their families live in poverty, and the number rises to 44% for African American women.

There is another story that the numbers can't tell. It is the story of constant stress, struggle and living on the edge of financial disaster while trying to raise healthy and productive children. For many of these women life is a constant juggling act - juggling bills, time and attention. Can any of us truly imagine the terror of living in constant fear of being homeless, letting our children down, or having the bottom fall out of our lives with no one to help us? This is a daily reality for thousands of women. Gift For Moms Project wants to be the unconditional safety net that helps empower women to build stronger families.

Join us as we work to build stronger families one day at a time. If you have programming or ideas that you would like to work with us on e-mail giftsformoms@rocketmail.com

---

How We Help

We are a peer-to-peer support group. Single moms helping other single moms by providing information and sharing much needed resources.

While we don't give out money, we do help to find needed services. Check our our resource page.

Other Services
Fit Camp
A healthy body leads to a healthy life. We sponsor year round kit camps for single parent families. Join us each Saturday at 8:00 at Veterans Memorial Park.

Counseling Services
We offer free behavioral health and financial counseling services for our members.

Success Circle
This program pairs a single mom with a group of professional mentors who will provide her personal advice each month for 1 year. The goal of this program is to give single parents a new way to view their situation and a new list of supports and champions to help her as she journeys into her new life.

Sync Sessions
Is a monthly information support group for single parents. This session is an open format where parents can discuss anything they want. Occasionally professionals are invited to lead the group otherwise, it is an open discussion forum.

Clothing Swap & Shoe Swap
Once a year we bring all the items that our children have out grown and swap them with other parents.

Self Improvement Classes
We host classes on resume building, financial management and job searching.



---